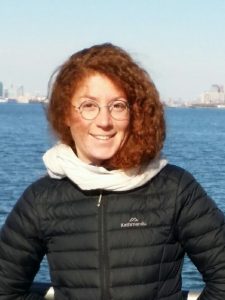 Assistant professor, École Normale Supérieure
ENS – Département de chimie
24 rue Lhomond, 75005 Paris
Email: mathilde.lepoitevin@ens.psl.eu
Phone: +33 144322460
Office: E024
Short bio
Since September 2018, Mathilde Lepoitevin is an assistant professor in Chemistry at Ecole Normale Superieure, in the Porous Materials Institute of Paris.
During her bachelor's she began to work on proteins interaction with materials. Before finishing that degree, she was admitted to the Materials for Energy Storage and Conversion (MESC) Master with a scholarship. While working on her master's thesis, she was granted a PhD fellowship by Montpellier University (Fr), under the supervision of Dr. Balme and Dr. Bechelany. Her PhD work consisted in developing and designing single solid state nanopores to mimic biological channels and to investigate either bio-macromolecules translocation or to functionalize the nanopore to mimic stimuli-dependent ion channels. During her PhD, she was the recipient of a travel grant from the "Chaire Total" for a short-term stay collaboration work with Dr. Dumee group at Deakin University (Australia).
In January 2017, she started working as a postdoctoral research fellow, at Brown University (Providence (RI), USA), under the guidance of Pr. D. Stein. There, she developed and demonstrated a new kind of ion source capable of efficiently transferring single amino acid ions from liquid into a mass spectrometer. Her results indicate a feasible path to single-molecule protein sequencing through a combination of a single-ion source and mass spectrometry.
She has co-authored 20 papers in peer-reviewed journals, and her work has been presented in 15 international conferences and 8 invited seminars. She has been the recipient of best PhD award from the "pole chimie Balard" in 2017.
Education and professional experience
Since 2018, Assistant Professor, Department of Chemistry, École Normale Supérieure, PSL University, Paris, France
2017 – 2018: Postdoctoral research associate, with Pr. D. Stein, Brown University, Department of Physics, Providence RI, USA
2013 – 2016: PhD with Dr. S. Balme & Dr. M. Bechelany, Institut Européen des Membranes, Université de Montpellier, France
2015: Visiting PhD Student, with Dr. L. Dumee, Deakin University, Institute for Frontier Materials, Waurn Ponds VIC, Australia
2011 – 2013: MSc Erasmus Mundus, Material for Energy Storage and Conversion
Research interests
Nanopore, Biosensor, Nano-electrochemistry, Material Science
<!–
Awards and distinctions
You can also list the membership to professional organizations (SCF, e.g.)
–>
Supervised students and post-doctorants
Xin MA, Master Chemistry and Life Science, PSL, Nov. 2018 – Nov. 2022
My-An TRAN, Magistère de Physico-Chimie Moléculaire, Université Paris-Saclay Feb. 2019 – July 2019
Andrea FELLONI, M.S. in Nanostructured Materials Engineering, Politecnico di Milano, March 2019 – Feb 2020
Teaching
Significant publications
Publications
[tplist author= »Lepoitevin » type= »article, book » author_name= »simple » entries_per_page= »30″ template= »tp_template_nc » link_style= »direct »]
[tplist author= »10494, 11484, 11537″ type= »article, book » author_name= »simple » entries_per_page= »30″ template= »tp_template_nc » link_style= »direct »]