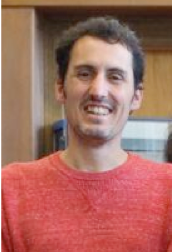 Chargé de Recherche CNRS – Maître de conférence attaché à l'ENS

ENS – Département de chimie
24 rue Lhomond, 75005 Paris
Email: nicolas.delsuc@ens.psl.eu
Phone: +33 144322424
Office: E037a
Our website: https://ens-bic.fr/
Short bio
I have been trained in chemistry at Bordeaux University. I did a PhD from 2004 to 2007 in supramolecular chemistry under the supervision of Dr. Ivan Huc. I worked on the development of proteomimetic structures using abiotic foldamers. I then obtained a fellowship from the Japan Society for the Promotion of Sciences (JSPS) to join the group of Prof. Itaru Hamachi at Kyoto University where I worked on new peptidyl receptors for peptide recognition. In 2009, I came back to France as temporary lecturer (ATER) at the Laboratoire des Biomolécules (LBM, UMR 7203), where I worked with Prof. Philippe Karoyan to develop foldamers based on proline derivatives. I have been appointed as CNRS researcher in 2010 and joined the group of Clotilde Policar at the LBM. I first worked on the conjugation of bioactive molecules with peptide to enhance their penetration and bioavaibality as well on the development of multimodal metal-based probes. Now I want to combine peptide and metal ions to synergistically take advantages of the properties of both classes of molecules by developing new peptidyl metalloprobes and metallodrugs.
Education and professional experience
Sept 2020-2022: Assitant Professor associate. ENS
Oct 2010-now: Associate researcher. Laboratoire des BioMolécules, UMR7203 CNRS-SU-ENS. In the Inorganic Cellular Chemistry group within the team 1.
Sept 2009-Sept 2010: Teaching assistant. Laboratoire des BioMolécules, UMR7203 UPMC-ENS. In the group of P. Karoyan, « Conception of enzyme mimics with foldamers »
Nov 2007-Jul 2009: Post-doctoral fellow of the JSPS. Kyoto University, Japan. In the group of I. Hamachi. « Development of molecular receptors for specific peptides recognition »
Oct 2004-Oct 2007: PhD in Organic chemistry, Bordeaux1 University under the supervision of I. Huc. »Development of proteomimetic tertiary structures with aromatic oligoamide foldamers »
Sept 2005- Sept 2007: M.Sc. in Organic chemistry, Bordeaux1 University
Research interests
Development of peptidyl metal complexes mimicking metalloenzymes
Development of metal-centered probes for bio-imaging or diagnostic
Awards and distinctions
2016: ANR JCJC
2007: JSPS Postodoctoral Fellowship
Supervised PhD and post-doctoral students
Current:
Formers: Gabrielle Schanne (2019-2022), Martha Zoumpoulaki (2017-2021), Koudedja Coulibaly (2017-2020), Amandine Vincent (2016-2019), Emilie Mathieu (2014-2017), Sarah Hostachy (2012-2015), May Lee Low (2011-2014, cotutelle with Malaysia), Anne-Sophie Bernard (2010-2014)
Publications
2013
Synchrotron radiation FTIR detection of a metal-carbonyl tamoxifen analog. Correlation with luminescence microscopy to study its subcellular distribution Article de journal
Biotechnology Advances, 31 (3), p. 393–395, 2013.
2011
Relative helix-helix conformations in branched aromatic oligoamide foldamers Article de journal
Journal of the American Chemical Society, 133 (9), p. 3165–3172, 2011.
2010
Cascading transformations within a dynamic self-assembled system Article de journal
Nature Chemistry, 2 (8), p. 684–687, 2010, ISSN: 1755-4349.
2009
Helical Aromatic Oligoamide Foldamers as Organizational Scaffolds for Photoinduced Charge Transfer Article de journal
Journal of the American Chemical Society, 131 (13), p. 4819–4829, 2009, ISSN: 0002-7863, 1520-5126.
Interplay of Interactions Governing the Dynamic Conversions of Acyclic and Macrocyclic Helicates Article de journal
Chemistry - A European Journal, 15 (25), p. 6138–6142, 2009, ISSN: 09476539, 15213765.
2008
Kinetics of Helix-Handedness Inversion: Folding and Unfolding in Aromatic Amide Oligomers Article de journal
ChemPhysChem, 9 (13), p. 1882–1890, 2008, ISSN: 14394235, 14397641.
Metal-Directed Dynamic Formation of Tertiary Structure in Foldamer Assemblies: Orienting Helices at an Angle Article de journal
Chemistry - A European Journal, 14 (24), p. 7140–7143, 2008, ISSN: 09476539, 15213765.
2007
The Herringbone Helix: A Noncanonical Folding in Aromatic−Aliphatic Peptides Article de journal
Journal of the American Chemical Society, 129 (37), p. 11348–11349, 2007, ISSN: 0002-7863, 1520-5126.
Proteomorphous Objects from Abiotic Backbones Article de journal
Angewandte Chemie International Edition, 46 (1-2), p. 214–217, 2007, ISSN: 14337851, 15213773.
2006
Vibrational circular dichroism and ab initio structure elucidation of an aromatic foldamer Article de journal
Chemical Communications, (25), p. 2714, 2006, ISSN: 1359-7345, 1364-548X.
2005
Probing helix propensity of monomers within a helical oligomer Article de journal
Proceedings of the National Academy of Sciences of the United States of America, 102 (45), p. 16146–16151, 2005.
0000
A di-Copper Peptidyl Complex Mimics the Activity of Catalase, a Key Antioxidant Metalloenzyme Article de journal
Inorganic Chemistry, 0 (0), p. null, 0000, (PMID: 34109781).