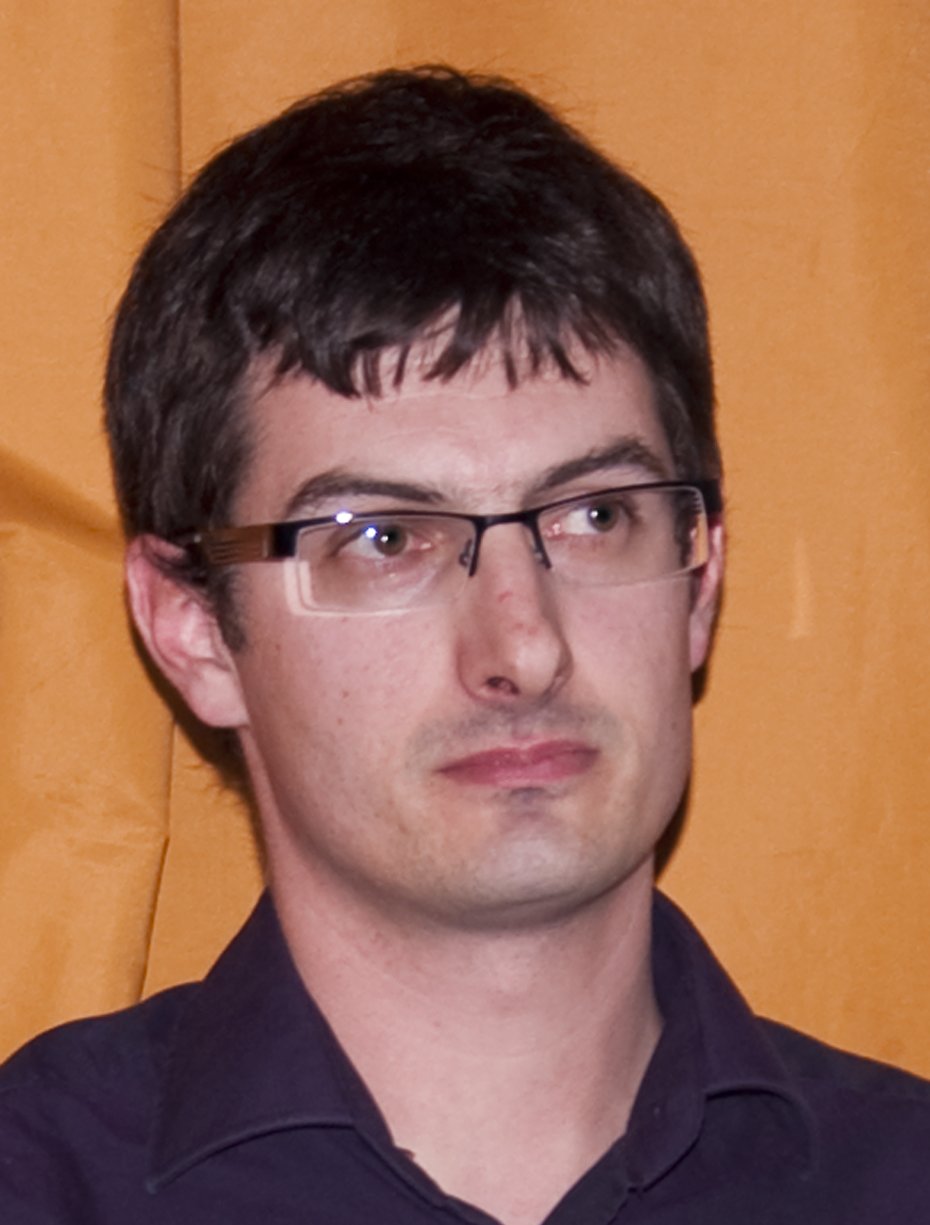 Maître de conférence
ENS – Département de chimie
24 rue Lhomond, 75005 Paris
Email: frederic.lemaitre@ens.psl.eu
Phone: 0144323641
Office: E154
We propose below 8 sections. Every member of the department can choose which one he/she wants to use. You can also use new ones. We only ask everyone to keep the general aspect of the page (no change of font, color, size, etc). For the picture, it must be 250px wide.
Short bio
Frédéric Lemaître did a joint thesis between the Université de Bourgogne (France) and the Université de Sherbrooke (Canada). He received a double Ph. D. degree in 2003. His Ph. D. research dealt with electrochemistry of palladium clusters and their reactivity towards alkyl- and acyl halides. After doing postdoctoral research in the electrochemistry group at the Ecole Normale Supérieure de Paris (palladium catalysis – Heck reaction), he has been obtained an Assistant Professor position (Maître de Conférences) at the Université Pierre et Marie Curie – Sorbonne Université in September 2004. His research works concern bioelectrochemistry and especially the detection of secretion processes at the single cell level. He is also interested in the production of bioelectricity by using photosynthesis.
Education and professional experience
Research interests
Bioelectrochemistry, Photosynthesis, Ultramicroelectrodes, Biophysics, Oxidative Stress, Analytical Chemistry, Microsystems, Fluorescence.
Awards and distinctions
Early Career Electrochemistry Prize from Société Française de Chimie (2015)
Member of ISE (International Society of Electrochemistry)
Member of BES (Bioelectrochemical Society)
Member of GFB (French Group of Bioelectrochemistry)
Member of SFC (Société Française de Chimie)
Supervised students and post-doctorants
Teaching
Teacher at Sorbonne Université (lectures, tutorials and practical works) : General Chemistry , Organic Chemistry, Electrochemistry, Kinetics, Thermodynamics
Teacher at CEPAC (Centre de Préparation de l'Agrégation de Chimie) in Electrochemistry
Chemistry academic book « Maxi-Fiches de Chimie Générale » (2008, Ed. Dunod, ISBN 978-2-10-051778-7)
Electrochemistry academic book« De l'Oxydo-Réduction à l'Electrochimie » (2006, Ed. Ellipses, ISBN 978-2-7298-3072-4)
Significant publications
H.-Y. Fu, D. Picot, Y. Choquet, G. Longatte, A. Sayegh, J. Delacotte, M. Guille-Collignon, F. Lemaître, F. Rappaport, F.-A. Wollman Nat. Commun. 2017, 8, 15274.
G. Longatte, F. Rappaport, F.-A. Wollman, M. Guille-Collignon, F. Lemaître Electrochim. Acta 2017, 236, 337-342.
G. Longatte, M. Guille-Collignon, F. Lemaître ChemPhysChem 2017, 18, 2643-2650.
X. Liu, A. Savy, S. Maurin, L. Grimaud, F. Darchen, D. Quinton, E. Labbé, O. Buriez, J. Delacotte, F. Lemaître, M. Guille-Collignon Angew. Chem. Int. Ed. 2017, 56, 2366-2370.
G. Longatte, A. Sayegh, J. Delacotte, F. Rappaport, F. A. Wollman, M. Guille-Collignon, F. Lemaître Chem. Sci. 2018, 9, 8271-8281.
Publications
2019
A Fluorescent False Neurotransmitter as a Dual Electrofluorescent Probe for Secretory Cell Models Article de journal
ChemPlusChem, 84 (10), p. 1578-1586, 2019, (cited By 0).
Diverting photosynthetic electrons from suspensions of Chlamydomonas reinhardtii algae - New insights using an electrochemical well device Article de journal
Electrochimica Acta, 304 , p. 465 - 473, 2019, ISSN: 0013-4686.
Electroactive fluorescent false neurotransmitter FFN102 partially replaces dopamine in PC12 cell vesicles Article de journal
Biophysical Chemistry, 245 , p. 1–5, 2019.
2018
Coupling electrochemistry and TIRF-microscopy with the fluorescent false neurotransmitter FFN102 supports the fluorescence signals during single vesicle exocytosis detection Article de journal
Biophysical Chemistry, 235 , p. 48–55, 2018.
Downstream Simultaneous Electrochemical Detection of Primary Reactive Oxygen and Nitrogen Species Released by Cell Populations in an Integrated Microfluidic Device Article de journal
Analytical Chemistry, 90 (15), p. 9386–9394, 2018.
Investigation of photocurrents resulting from a living unicellular algae suspension with quinones over time Article de journal
Chemical Science, 9 (43), p. 8271–8281, 2018.
Redox switchable rhodamine-ferrocene dyad: Exploring imaging possibilities in cells Article de journal
Electrochemistry Communications, 97 , p. 46–50, 2018.
2017
A Dual Functional Electroactive and Fluorescent Probe for Coupled Measurements of Vesicular Exocytosis with High Spatial and Temporal Resolution Article de journal
Angewandte Chemie - International Edition, 56 (9), p. 2366–2370, 2017.
Electrocatalytic Mechanism Involving Michaelis–Menten Kinetics at the Preparative Scale: Theory and Applicability to Photocurrents from a Photosynthetic Algae Suspension With Quinones Article de journal
ChemPhysChem, 18 (19), p. 2643–2650, 2017.
Electrochemical Harvesting of Photosynthetic Electrons from Unicellular Algae Population at the Preparative Scale by Using 2,6-dichlorobenzoquinone Article de journal
Electrochimica Acta, 236 , p. 337–342, 2017.
Indium Tin Oxide Microsystem for Electrochemical Detection of Exocytosis of Migratory Dendritic Cells Article de journal
Electroanalysis, 29 (1), p. 197–202, 2017.
2016
Astrocyte-derived adenosine is central to the hypnogenic effect of glucose Article de journal
Scientific Reports, 6 , 2016.
Mechanism and analyses for extracting photosynthetic electrons using exogenous quinones-what makes a good extraction pathway? Article de journal
Photochemical and Photobiological Sciences, 15 (8), p. 969–979, 2016.
More Transparency in BioAnalysis of Exocytosis: Coupling of Electrochemistry and Fluorescence Microscopy at ITO Electrodes Book Chapter
Raspaud, E; Marliere, C; Regeard, C; Cornut, R; MealletRenault, R (Ed.): Electro-Activity of Biological Systems, 6 , 2016, (Times Cited: 0 International and Multidisciplinary Workshop on Electro-Activity of Biological Systems (EABS) Nov 18-19, 2015 Paris, FRANCE).
Multi-chambers Microsystem for Simultaneous and Direct Electrochemical Detection of Reactive Oxygen and Nitrogen Species Released by Cell Populations Article de journal
Electroanalysis, 28 (8), p. 1865–1872, 2016.