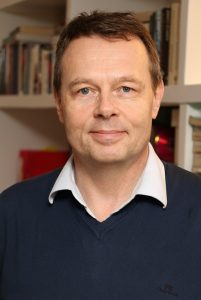 Professeur Sorbonne Université
ENS – Département de chimie
24 rue Lhomond, 75005 Paris
Email: eric.labbe@ens.psl.eu
Phone: 0144322433
Office: E010
Short bio
Eric Labbé is an analytical electrochemist interested in the understanding of reactivity and transport issues related to biological molecules. He started studying  electrosynthetic and electrocatalytic sequences in the group of Jacques Périchon at Université Paris Est (UPEC) until 2005. Since 2006, he is Professor at Sorbonne Université (SU) and his research topics focus on the exploration of drug metabolism as well as biomolecule distribution accross lipid membranes, through the electrochemical switching ON/OFF of fluorescent probes.
Education and professional experience
Since 2006         Professor, Sorbonne Université
1992 – 2005      Maître de Conférences, IUFM de Créteil
1991 – 1992      Postdoc, Université Pierre et Marie Curie
1988 – 1991      PhD, Université Pierre et Marie Curie
Research interests
Keywords : electrochemistry ; mechanisms ; metabolism ; transport
The journey of a biomolecule (drug, peptide,…) throughout a living organism from its generation -or administration- to its elimination encompasses namely metabolic processes and transport steps accross barriers. Eric Labbé is interested in delineating the metabolism of such molecules and the dynamics of their passage through lipid membranes, which are central considerations for both the identification of the active metabolites and the evaluation of their bio-availability. Within this topic, his research concerns the development of electrochemically switchable dual redox/fluorescent probes.
Teaching
Significant publications
 "The Fundamental Input of Analytical Electrochemistry in the Determination of Intermediates and Reaction Mechanisms in Electrosynthetic Processes." ChemElectroChem Minireview,  2019, 6, 4118.
"Redox switchable rhodamine-ferrocene dyad: Exploring imaging possibilities in cells"  Electrochemistry Communications, 2018, 97,  46.
"Selective Electrochemical Bleaching of the Outer Leaflet of Fluorescently Labelled Giant Liposomes"  Chem. Eur.J., 2017, 23, 6781
"Electrochemical Behavior of Plutonium in n-TriButylPhosphate"  Dalton Trans., 2017, 46, 4943.
"Monitoring and Quantifying the Passive Transport of Molecules Through Patch–Clamp Suspended Real and Model Cell Membranes "  Angew. Chem. Int Ed. , 2014, 53, 3192.  Key Scientific Article  of the Global Medical Discovery newsfeed.
Publications accessible from Open Access platforms   /
Publications ( full record)
2017
Electrochemical Characterization of Plutonium in n-Tributyl Phosphate Article de journal
Dalton Transactions, p. 4943-4949, 2017.
Selective Electrochemical Bleaching of the Outer Leaflet of Fluorescently Labelled Giant Liposomes Article de journal
Chemistry A European Journal, 23 , p. 6781-6787, 2017.
2015
Evaluation of photosynthetic electrons derivation by exogenous redox mediators Article de journal
Biophysical Chemistry, 205 , p. 1-8, 2015.
Synthesis, Characterization, and Biological Properties of Osmium-Based Tamoxifen Derivatives – Comparison with Their Homologues in the Iron and Ruthenium Series Article de journal
European Journal of Inorganic Chemistry, p. n/a, 2015.
Three-electrode analytical and preparative electrochemistry in micro-volume hanging droplets Article de journal
Electrochemistry Communications, 54 (0), p. 41-45, 2015.
2014
Advances in Organometallic Chemistry and Catalysis : The Silver/Gold Jubilee International Conference on Organometallic Chemistry Celebratory Book, First Edition. Edited by Armando J. L. Pombeiro. Livre
2014.
Electrochemically Driven Supramolecular Interaction of Quinones and Ferrocifens: An Example of Redox Activation of Bioactive Compounds Article de journal
Curr Top Med Chem, 2014.
Monitoring and Quantifying the Passive Transport of Molecules Through Patch–Clamp Suspended Real and Model Cell Membranes Article de journal
Angewandte Chemie International Edition, p. n/a, 2014.
Oxidative Sequence of a Ruthenocene-Based Anticancer Drug Candidate in a Basic Environment Article de journal
Organometallics, 33 (18), p. 4940-4946, 2014.
Uncovering the Missing Link between Molecular Electrochemistry and Electrocatalysis: Mechanism of the Reduction of Benzyl Chloride at Silver Cathodes Article de journal
ChemElectroChem, 1 (1), p. 227-240, 2014.
2013
Electrochemistry and Supramolecular Interactions of "Ferrocifen" Anticancer Drugs with Cyclodextrins and Lipid Bilayers: An Electrochemical Overview Book Chapter
Advances in Organometallic Chemistry and Catalysis, p. 631-651, 2013.
2012
Electrochemical studies of cell penetrating peptide interactions with lipid membranes Article de journal
Abstracts of Papers of the American Chemical Society, 243 , 2012.
Electrochemistry of a Ferrocene-Grafted Cell-Penetrating Peptide Article de journal
Electrochimica Acta, 80 , p. 180-186, 2012.
2011
Electrochemistry at gold nanoparticles deposited on dendrimers assemblies adsorbed onto gold and platinum surfaces Article de journal
Journal of Electroanalytical Chemistry, 659 (1), p. 76-82, 2011.
2009
A 3 Ferrocenophane Polyphenol Showing a Remarkable Antiproliferative Activity on Breast and Prostate Cancer Cell Lines Article de journal
Journal of Medicinal Chemistry, 52 (15), p. 4964-4967, 2009.