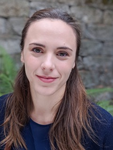 Post-doctorante
ENS – Département de chimie
24 rue Lhomond, 75005 Paris
Email: alison.tebo@ens.psl.eu
Phone: 0144322410
Office: ES129b
Short bio
Education and professional experience
2010 – B.S. UCLA, Biochemistry
2015 – Ph.D. University of Michigan, Chemical Biology
Research interests
List of keywords and themes
Awards and distinctions
You can also list the membership to professional organizations (SCF, e.g.)
Supervised students and post-doctorants
Significant publications
You can choose the full list of publications (below) or only selected ones
Publications
2019
A split fluorescent reporter with rapid and reversible complementation Article de journal
Nature Communications, 10 (1), p. 2822, 2019, ISSN: 2041-1723.
2018
Circularly Permuted Fluorogenic Proteins for the Design of Modular Biosensors Article de journal
ACS Chemical Biology, 13 (9), p. 2392–2397, 2018.
Development of a Rubredoxin-Type Center Embedded in a de Dovo-Designed Three-Helix Bundle Article de journal
Biochemistry, 57 (16), p. 2308-2316, 2018.
Fluorogenic Protein-Based Strategies for Detection, Actuation, and Sensing Article de journal
BioEssays, 40 (10), 2018.
Improved Chemical-Genetic Fluorescent Markers for Live Cell Microscopy Article de journal
Biochemistry, 57 (39), p. 5648–5653, 2018.
Macroscale fluorescence imaging against autofluorescence under ambient light Article de journal
Light: Science and Applications, 7 (1), 2018.
Modifying the Steric Properties in the Second Coordination Sphere of Designed Peptides Leads to Enhancement of Nitrite Reductase Activity Article de journal
Angewandte Chemie International Edition, 57 (15), p. 3954-3957, 2018.
2017
Discovery of Chemoautotrophic Symbiosis in the Giant Shipworm Kuphus Polythalamia(Bivalvia: Teredinidae) Extends Wooden-Steps Theory Article de journal
Proceedings of the National Academy of Sciences, 114 (18), p. E3652-E3658, 2017.
Fluorogenic labeling strategies for biological imaging Article de journal
International Journal of Molecular Sciences, 18 (7), 2017.
Intramolecular Photogeneration of a Tyrosine Radical in a Designed Protein Article de journal
ChemPhotoChem, 1 (3), p. 89-92, 2017.
2015
Artificial Metalloenzymes Derived from Three-Helix Bundles. Article de journal
Current Opinion in Chemical Biology, 25C , p. 65-70, 2015.
Variable Primary Coordination Environments of Cd(II) Binding to Three Helix Bundles Provide a Pathway for Rapid Metal Exchange. Article de journal
Metallomics, 7 (12), p. 1555-1561, 2015.
2014
Porphyrins and Metalloporphyrins at Components in Artificial Photosynthesis Research incollection
Kadish, Karl M; Smith, Kevin M; Guilard, Roger (Ed.): Handbook of Porphyrin Science, 34 , p. 196-233, World Scientific Pulishing, Singapore, 2014, ISBN: 978-981-4425-10-0.
Protein Design: Toward Functional Metalloenzymes. Article de journal
Chemical reviews, 114 (7), p. 3495-3578, 2014.