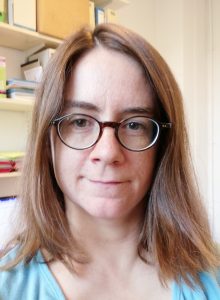 Chargée de recherche CNRS – Maître de conférences attachée à l'ENS

ENS – Département de chimie
24 rue Lhomond, 75005 Paris
Email: agathe.espagne@ens.psl.eu
Phone: 0144322413
Office: E121
ORCID: 0000-0002-2333-0227 (link)
Research interests
Photochemical mechanisms in light-sensitive proteins and molecules: cis/trans photoisomerization, photoinduced electron and proton transfer…
Fluorescent proteins: photophysics, photochemistry, engineering, applications
Time-resolved spectroscopy: transient absorption, time-resolved fluorescence, femtosecond to millisecond timescales
Short bio
Agathe Espagne studied chemistry at ENS in Paris. She specialized in mechanistic photochemistry and femtosecond transient absorption spectroscopy as a graduate student in the group of Monique Martin, studying the cis/trans photoisomerization of photoactive protein PYP. She received her PhD degree in physical chemistry in 2005. She was then trained in femtosecond fluorescence spectroscopy in the group of Ahmed H. Zewail at Caltech, and in femtosecond IR spectroscopy in the group of Thomas Elsaesser at MBI Berlin. In 2006 she joined the group of Klaus Brettel at CEA-Saclay, where she investigated photoinduced electron transfer in flavoproteins with transient absorption spectroscopy on subnanosecond to millisecond timescales. She was recruited by CNRS as a permanent researcher in 2007 and focussed then her research on fluorescent proteins photophysics, photochemistry, engineering and applications. First member of LCP in Orsay, she moved to ENS in 2012.
Publications
2019
Photosensitized oxidative addition to gold(i) enables alkynylative cyclization of o-alkylnylphenols with iodoalkynes Article de journal
Nature Chemistry, 11 (9), p. 797-805, 2019, ISSN: 1755-4349.
Ultrafast Oxidation of a Tyrosine by Proton-Coupled Electron Transfer Promotes Light Activation of an Animal-like Cryptochrome Article de journal
Journal of the American Chemical Society, 141 (34), p. 13394-13409, 2019, ISSN: 0002-7863.
2018
Delocalized hole transport coupled to sub-ns tryptophanyl deprotonation promotes photoreduction of class II photolyases Article de journal
Physical Chemistry Chemical Physics, 20 (39), p. 25446-25457, 2018, ISSN: 1463-9076.
Macroscale fluorescence imaging against autofluorescence under ambient light Article de journal
Light: Science and Applications, 7 (1), 2018.
2017
Photoinduced Chromophore Hydration in the Fluorescent Protein Dreiklang Is Triggered by Ultrafast Excited-State Proton Transfer Coupled to a Low-Frequency Vibration Article de journal
Journal of Physical Chemistry Letters, 8 (7), p. 1489–1495, 2017.
Ultrafast flavin photoreduction in an oxidized animal (6-4) photolyase through an unconventional tryptophan tetrad Article de journal
Physical Chemistry Chemical Physics, 19 (36), p. 24493–24504, 2017.
2016
Ultrafast Dynamics of a Green Fluorescent Protein Chromophore Analogue: Competition between Excited-State Proton Transfer and Torsional Relaxation Article de journal
Journal of Physical Chemistry B, 120 (36), p. 9716–9722, 2016.
2015
Photoswitching Kinetics and Phase-Sensitive Detection Add Discriminative Dimensions for Selective Fluorescence Imaging Article de journal
Angewandte Chemie International Edition, 54 (9), p. 2633-2637, 2015, ISSN: 1433-7851.
Real-time monitoring of chromophore isomerization and deprotonation during the photoactivation of the fluorescent protein Dronpa Article de journal
Journal of Physical Chemistry B, 119 (6), p. 2404–2414, 2015.
2012
Method For Generating Cyan Fluorescent Proteins Which Have A Reduced Ph Sensitivity Patent
WO 2012/172095 A1, 2012.
2011
Cyan Fluorescent Protein Carries a Constitutive Mutation That Prevents Its Dimerization Article de journal
Biochemistry, 50 (4), p. 437-439, 2011, ISSN: 0006-2960.
Relationship between Homo-Oligomerization of a Mammalian Olfactory Receptor and Its Activation State Demonstrated by Bioluminescence Resonance Energy Transfer Article de journal
Journal of Biological Chemistry, 286 (17), p. 15252-15259, 2011, ISSN: 0021-9258.
2010
DNA Repair by Photolyase: A Novel Substrate with Low Background Absorption around 265 Nm for Transient Absorption Studies in the UV Article de journal
Biochemistry, 49 (2), p. 297-303, 2010, ISSN: 0006-2960.
2009
Use of Ruthenium Dyes for Subnanosecond Detector Fidelity Testing in Real Time Transient Absorption Article de journal
Review of Scientific Instruments, 80 (4), p. 5, 2009, ISSN: 0034-6748.
Very Fast Product Release and Catalytic Turnover of DNA Photolyase Article de journal
Chembiochem, 10 (11), p. 1777-1780, 2009, ISSN: 1439-4227.