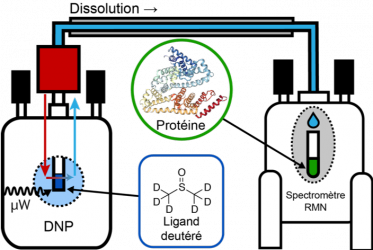 We introduce a method for the detection of weak interactions of small molecules such as metabolites or medicaments that contain deuterated methyl groups with proteins in solution. The technique relies on long-lived imbalances of spin state populations, which are generated by dissolution dynamic nuclear polarization (D-DNP) and feature lifetimes that depend on the frequency of internal rotation of deuterated methyl groups. We demonstrate the technique for interactions between deuterated dimethyl sulfoxide (DMSO-d6) and bovine serum albumin (BSA) or trypsin, where the methyl group rotation is slowed down upon protein binding, which causes a marked reduction in the lifetime of the population imbalances.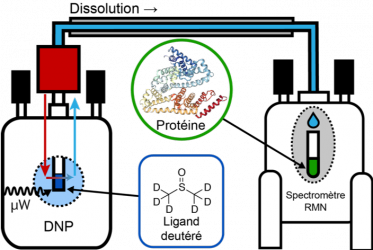 N'hésitez pas à consulter le communiqué de presse associé à cet article :
Les médicaments deutérés : des promesses thérapeutiques s'ouvrent grâce à la résonance magnétique nucléaire !
References:
Long-Lived States in Hyperpolarized Deuterated Methyl Groups Reveal Weak Binding of Small Molecules to Proteins 
Thomas Kress, Astrid Walrant, Geoffrey Bodenhausen, and Dennis Kurzbach
J. Phys. Chem. Lett. 2019, 10, 1523−1529
DOI: 10.1021/acs.jpclett.9b00149 
Long-Lived States in Hyperpolarized Deuterated Methyl Groups Reveal Weak Binding of Small Molecules to Proteins